In the Film Industry, what is Pre-Production?
When a project moves from development into the pre-production phase, everything is arranged that must be in place before the actual shoot or principle photography begins. In pre-production, casting is completed, crews are hired, costume designers get busy, and set designers start building. If the film will be shot on location, locations are scouted and contracted for the shoot. A schedule is prepared and the script is divided into scenes by location and casting requirements to make shooting as cost-efficient as possible.
To block out scenes for a shoot, storyboards are often produced that visually capture the essence of the scene's action. A storyboard is a comic-book-like graphic frame with free-hand rendering of a scene. Storyboards can depict exchanges between characters or action sequences such as a car chase or explosion. They also depict the scene from the desired camera angle(s) and are exhibited at read throughs and/or otherwise distributed among necessary cast and crew.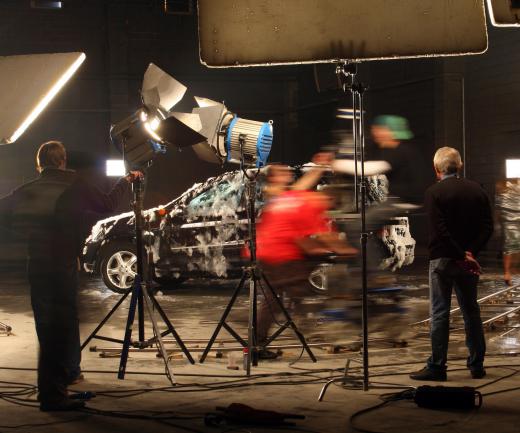 Cast members must meet costume designers for fittings in the pre-production phase. If voice coaches are required, trainers, tutors or other types of character preparation, that will take place in this phase. Actors who need to lose or gain weight for a part have the pre-production phase to get in shape, physically and mentally.
The administrative structure is also put together in pre-production. Every film is run much like a miniature company with all of the usual departments required: payroll, accounting, budgeting, overseeing and so forth.
It is entirely possible for a film to be dropped during pre-production. One reason might be the loss of a principal cast member, or circumstances that prohibit completion of some other major aspect of the project. Once pre-production gives way to principal photography or the actual shoot, it's much less common for the film to drop out of production. Financiers are already heavily invested by this point.
The road of movie production is a long process, starting with development, going into pre-production, production or principle photography, post-production, audience testing and finally distribution. Each movie runs its own gamut of trials and tribulations, setbacks and smooth sailing. The entire process can take anywhere from several months to several years, with the development process typically consuming the most time, however there are exceptions. Shooting schedules can be disrupted by casting difficulties, accidents on or off the set involving major cast members, or in the case of location shoots, uncooperative weather or other unforeseen problems. When a film finally makes it to the big screen, it represents a considerable accomplishment for all involved.
AS FEATURED ON:
AS FEATURED ON:







By: Sergey Lavrentev

Lighting directors begin working in pre-production, and are also needed to run the lighting on set.

By: donatas1205

Pre-production includes all the work that needs to be completed-- such as casting and selecting actors and designing sets -- prior to filming.