In spite of its name, the Wagner tuba is not actually a tuba. It is a brass instrument, but it is a member of the horn group, one of the four major categories into which brass are customarily divided, the others being tubas, trumpets, and trombones. It comes in two sizes: Bb (tenor) and F (bass).
However, the Wagner tuba is, as its name suggests, the brainchild of German composer Richard Wagner, making it an eponymous instrument like the Sousaphone — created by American bandmaster and composer John Philip Sousa, and the saxophone, invented by Belgian instrument maker Adolphe Sax. The Wagner tuba was invented because in the course of writing Der Rhinegold, in the early 1850s, Wagner conceived of a sound that no existing instrument could make and had them made for him.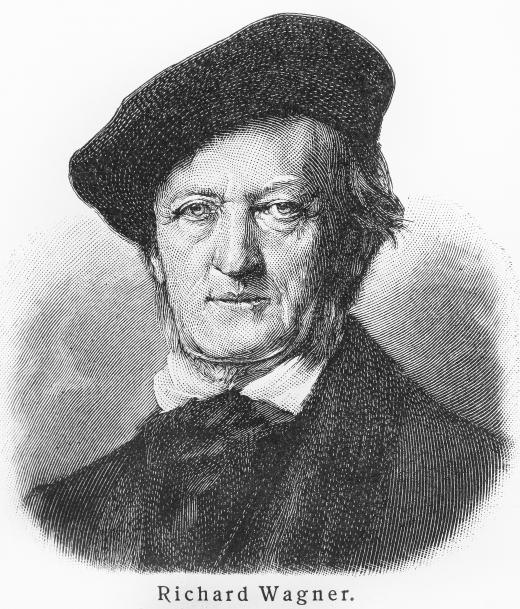 Other composers began to use them as well. It is reported that Anton Bruckner called for it in his 7th Symphony, Richard Strauss used it in Don Quixote, Igor Stravinsky used it in both Firebird and Le Sacre du Printemps, and Maurice Ravel's orchestral arrangement of Pictures at an Exhibition by Modest Mussorgsky also includes the Wagner tuba. Today, some of these pieces may be performed with a euphonium taking the Wagner tuba part.
The Wagner tuba has four rotary valves. In the Bb Wagner tuba, one of the valves lowers the pitch by a fourth. On the instrument keyed in F, that same vale lowers the pitch by a fifth. Music for both types of Wagner tuba is transposed, and the Bb tubas sound a major second lower than the written pitches, while the F tubas sound a perfect fifth lower.
Hornists are generally employed to play the Wagner tuba, which uses a horn mouthpiece, and has its valves operated by the left hand, like the French horn, not the right hand, like the other tubas. Unlike the horn, the right hand is never used to stop the Wagner tuba, but a mute may be employed, largely to reduce the volume. It is worth noting that achieving accurate intonation is more difficult with the Wagner tuba than it is with the French horn.
AS FEATURED ON:
AS FEATURED ON:







By: nickolae

The Wagner tuba was invented by composer Richard Wagner.

By: mkm3

Today, pieces intended for a Wagner tuba may be played by a euphonium instead.