What Should I Know About Acoustic Guitar Strings?
Acoustic guitars are hollow-bodied guitars that come with six or 12 steel strings and optional on-board electronic pickups. They should not be confused with their acoustic cousin, the classical guitar. Classical guitars require nylon strings and, lacking a supportive truss rod in the neck, cannot use the high tension steel-core strings engineered for acoustic guitars. Acoustic guitars are sometimes called acoustic steel-stringed guitars to make their distinction from classical guitars clear.
Acoustic guitar strings come in a handful of alloy ratios and gauges. The alloy ratio refers to the different metals that makeup the string, and the gauge of the string refers to its thickness or diameter.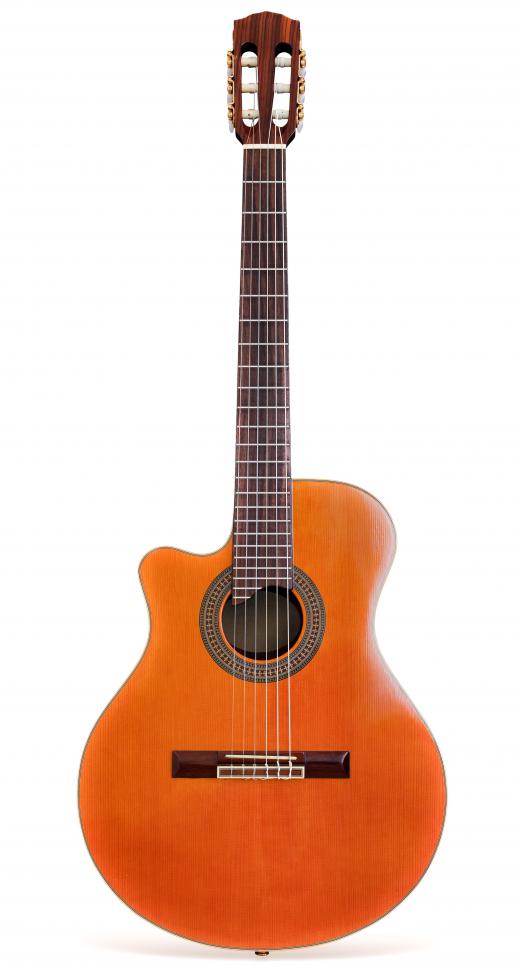 Bronze strings are referred to as 80/20 strings, referring to their copper-to-tin (or zinc) ratio. These are bright sounding strings with a clear, ringing sound, but they are sometimes criticized for losing their brightness after a short initial period. Not requiring as much tension, they have a softer feel.
Phosphor-bronze strings are 92% copper and 8% tin (or zinc), are corrosive-resistant, and tend to last longer than standard bronze with a brassier sound. While stiffer than 80/20s, these strings are probably the most popular strings.
Brass strings are 85/15 strings, thought by some to fall between the above two types of strings in terms of sound. These strings are also well-liked, though you might find them more sensitive to skin oils.
Acoustic guitar strings are made in various diameters or gauges: extra super light, super light, light, medium, heavy, and extra heavy. Lighter gauge strings are thinner, easier to press to the fretboard for improved playability, and are generally preferred by pickers who need to bend notes easily and work the strings. Heavier gauge ones are louder, fuller, stiffer and require more strength and skill to play, but deliver a larger, brighter sound, preferred for strumming. Medium gauge strings fall down the middle, with some advantages of each of the other two categories. The player's style and skill level will likely determine which gauge suits him or her best, but beginners and those with 12-string guitars should opt for lighter strings.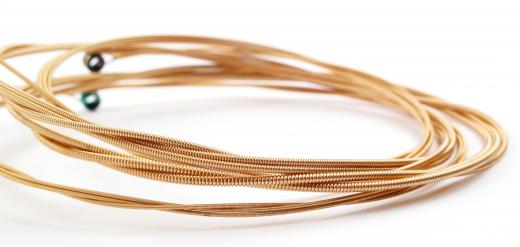 Silk and steel acoustic guitar strings are yet another choice. These strings can have silk cores wrapped in steel, or steel cores wrapped in silk, then wrapped again in steel. Silk and steel strings combine some of the mellower attributes of classical guitar strings, to produce a hybrid string with a distinctive melodic sound. Silk and steel strings do not put as much tension on a guitar neck as steel strings, so a neck adjustment might be in order when switching to these strings, particularly if switching from medium or heavy gauge strings. Aside from those who simply prefer the sound of silk and steel, beginners might find that silk and steel strings are friendlier than other options.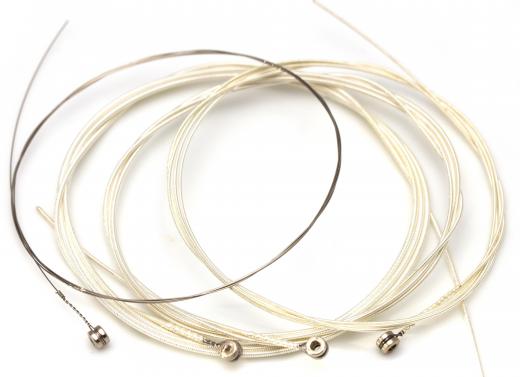 Pickups used in acoustic guitars are transducers, rather than electromagnetic pickups like those used in electric guitars. Transducer pickups magnify sound by picking up vibrations from the soundboard and bridge, so acoustic strings do not require magnetic properties. Bronze and brass strings are not used on electric guitars because these alloys can't be "heard" by electromagnetic pickups. Instead, electric guitars use strings made of stainless steel and nickel, or metals that have significant magnetic properties. Of the strings designed for electric guitars, some people use pure nickel strings on acoustic guitars, which have a smoother feel than bronze or brass strings.
AS FEATURED ON:
AS FEATURED ON:







By: coward_lion

An acoustic guitar.

By: Alenavlad

Acoustic guitars have either six or 12 strings.

By: juhanson

Bronze acoustic guitar strings produce a clear, ringing sound.

By: schankz

Acoustic guitar strings are made from a variety of alloys, including bronze, brass and steel.

By: phiseksit

Some guitar strings are spun from silk cocoons.

By: bambooman44

The thickness of guitar strings will have an impact on their playability and durability.