How Do I Choose the Best Acrylic Drums?
When choosing the best acrylic drums, some of the components to consider are sound, manufacturer and price. Acrylic drums have shells made from petroleum-derived plastic. Although they are unique and striking in appearance, the clear, see-through drums have a decidedly different sound from that of their wood-shelled counterparts. Choosing the best acrylic drums depends on what type of sound you want from your kit, determining your price range and researching which companies have the best reputation for producing quality drums.
Most drummers have a particular sound preference, whether that is deep and resonant or bright with high-end tones. The sound produced by acrylic shells is hard and has a lot of attack, meaning that it is considerably louder and does not resonate as deeply as mahogany, birch or maple. By contrast, wood-shelled drums sound warmer and have a fuller punch. Acrylics are good for high-volume situations in which you want the drums to be heard, but they are not recommended for studio work. If you know that you like the brighter, synthetic sound of acrylic shells, then the next step is to determine your budget.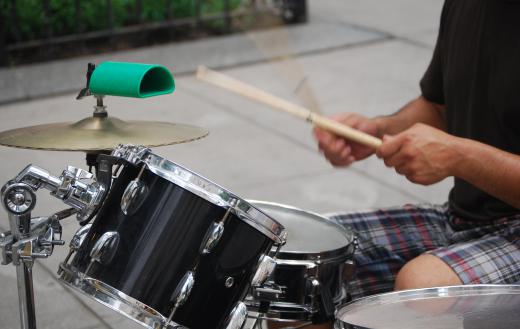 When they are made by hand, acrylic drums will command a higher price than a factory-made, cheaper alternative. These drums, because they are moisture-proof and less susceptible to warping, are more expensive than wood drums. Their lifespan is greater, however, and their sound quality will last longer than a less-expensive, wood-shelled kit.
After determining your sound needs and budget, look at manufacturers' reputations within the drum community to help you find the best brand of drums. There are a few drum manufacturers that specialize in acrylic drums. Some of these drums are hand-formed and welded at the seams, which makes them airtight and watertight. Their shells are balanced so that the vibrations are evenly distributed and produce better tonal quality. Many drummers believe acrylic drums have the advantage over wood or metal drums in this respect.
One of the concerns about the early acrylic drums was their durability and how well their plastic shells held up against wear and tear and time. The type of polymer plastic used today and the hand-rolled aspect of the shell-making process have earned acrylic drums the mark of resilience among drummers. Proper care and storage of your drums is important for maintaining their stability.
AS FEATURED ON:
AS FEATURED ON:







By: Harry Lewkowicz

Standard drums are made with wood shells.