What Happened to Saturday Morning Cartoons?
During the earliest years of television, most children's programming consisted of live broadcasts hosted by adult hosts such as Bozo the Clown, Buffalo Bob Smith, and Captain Video. Local television stations could also produce their own children's entertainment shows, many of which were based on their national counterparts such as the Howdy Doody Show or Romper Room, a show designed to simulate the learning environment of an actual schoolroom. Children raised between the 1960s and 1990s have similar memories of a newer form of children's entertainment, the Saturday morning cartoons. Cartoons were originally designed to fill a programming void at a time when both children and their parents may be watching television together, an ideal time for advertisers to pitch family or child-oriented products such as toys or breakfast cereals. Although cartoons are still shown on some stations, a combination of a growing costs, increasing requirements on what the shows needed to contain, and declining popularity have led to their decline.
The first Saturday morning cartoons shown on network channels were largely culled from a stockpile of animated shorts originally screened in movie theaters before the main feature film. Warner Brothers and MGM studios produced thousands of these cartoons, which featured such popular characters as Bugs Bunny, Daffy Duck, Porky Pig, and the self-destructive comedy duo Tom and Jerry. Other cartoons were commissioned from independent animation companies, which resulted in such favorite characters as Casper the Friendly Ghost, Magilla Gorilla, and Huckleberry Hound.
Others, such as The Flintstones and The Jetsons, were originally produced as prime time cartoons, much like the modern animated series The Simpsons or Family Guy. The three broadcast networks used these cartoons to attract a specific demographic on Saturday mornings, partially in hopes that these children would later act as amateur pitchmen for the products advertised between shows.
At one point in television history, Saturday morning cartoons were promoted just as heavily as any prime time programming. Special preview shows, hosted by popular actors or musicians, would regularly appear on a Friday night just before the premiere of the new cartoon season. Networks produced or commissioned connective bits of animation such as the Laff-a-Lympics, a mock competition between familiar ABC cartoon characters shown between the main programming.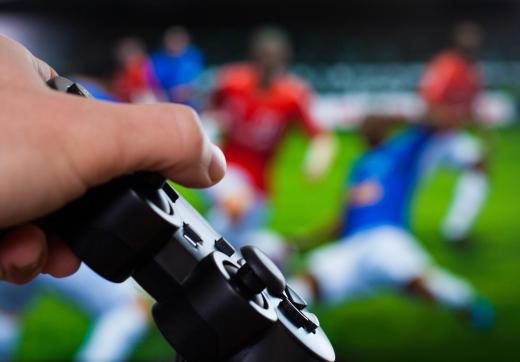 Unfortunately, many of these cartoons and promotional material disappeared from Saturday morning programming by the mid 1990s, replaced with more generic offerings from foreign studios or live programming aimed at a teen audience. While the older cartoons can still be seen on cable stations or purchased in DVD or videotape form, the era of broadcast networks showing cartoons all Saturday morning appears to be over.
A number of contributing factors may have led to their demise, some of which may have been self-inflicted. One major reason broadcast networks stopped showing certain studio-produced cartoons was content, and these cartoons were originally geared towards a different audience with a different sense of humor. The violent antics of Tom and Jerry or the anti-social behavior of Bugs Bunny may have worked well in movie theaters, but parents of young children became concerned that these images would have a negative impact on young and impressionable minds.
Network executives during the 1970s took these concerns very seriously, and many of the most controversial studio-produced cartoons were heavily edited for content or pulled from public broadcast altogether. New cartoons faced the same sanitation process as comic books produced after the 1950s. Themes often needed to demonstrate positive moral or ethical values, such as good always triumphing over evil or teamwork succeeding where individual or selfish efforts failed. By the 1980s, many animation companies found it difficult to produce new material under such limiting conditions.
Another blow to Saturday morning cartoons came from the cartoon industry itself. The sudden demand for new animated programs during the 1970s and 1980s put a significant strain on the relationship between networks and production companies. Voice artists, many of whom were members of a very powerful union, were routinely asked to provide vocally-challenging services for literally hours at a time without sufficient time to recover. A called strike by unionized voice-over artists resulted in better working conditions, but also resulted in many network executives looking for non-union or syndicated programming elsewhere.
With Saturday morning cartoons declining in popularity during the 1990s, all three networks looked for other formats to fill the void. New or extended versions of morning news shows began to appear in place of the earliest cartoons, with mixed success. Sports programming also appeared earlier and earlier in the network line-up, replacing the final cartoons or live action shows. What had started as a three or four hour block of cartoons had become little more than a two hour package of corporate-owned material culled from kids' cable channels.
A ruling from the US Federal Communications Commission (FCC) did not improve matters. Concerns over the content of the generic "invaders from space" or Japanese anime offerings led to new requirements for children's programming. Networks were now required to broadcast three hours of programming designated as "educational or informative" (E/I). This effectively put an end to the original concept of Looney Tunes cartoons, which could not be construed as either educational or informative, unless the information was that a small umbrella is no match for a falling boulder.
This new E/I requirement essentially spelled the end of the traditional Saturday morning cartoons of legend. Instead, the parent companies of television networks chose to satisfy the FCC's regulations by applying the E/I label to company-owned cartoons, whether or not they were indeed educational or informative. Many of the executives and creative teams responsible for the best shows of the 1970s and 1980s also retired or were transferred to other programming departments.
The end of the classic era of Saturday morning cartoons can also be traced to the changing lifestyles and interests of their target audiences. By the 2000s, video games and computers had largely replaced broadcast television as a Saturday morning diversion. Would-be cartoon watchers were also becoming more involved in sports and other outdoor activities, not staying indoors to watch generic cartoons available at other times on other cartoon-oriented cable networks. Combined with parental concerns over the heavy commercial promotion of unhealthy snack foods or movie tie-in products, this loss of the primary target audience has encouraged the four major broadcast networks to rethink their Saturday morning programming.
Perhaps a future generation of television executives and creative animators will reinvigorate the concept, but many of the original programming has become readily available on DVDs or is shown regularly on specialized cable networks dedicated to animation.
AS FEATURED ON:
AS FEATURED ON:







By: djedzura

Lifestyle and interest changes in kids have led the change of cartoon programming.

By: wckiw

Many classic Saturday morning cartoons can now be found online.

By: Serjik Ahkhundov

As video games rose in popularity, there was a decline in the audience for Saturday morning cartoons.

By: HaywireMedia

At one point in time, Saturday morning cartoons were promoted just as heavily as any prime time programming.

By: Dusan Kostic

Many children now participate in youth sports leagues on Saturday mornings.