How Do I Choose the Best Violin Varnish?
It has been said that violin makers spend ten years learning to craft instruments, then the rest of their lives perfecting their varnish. A good varnish enhances tone quality, protects the ground layer, and adds to the unique beauty of the instrument. To choose the best violin varnish for your situation, consider whether you want a shellac or oil-based product and also what type of resin you prefer.
The simplest and least expensive type of varnish is synthetic polyurethane. It is most commonly used in beginner instruments for children, due to its durability and low cost. This is a very thick varnish that can severely dampen the instrument's sound, and therefore is not considered suitable for high-quality instruments.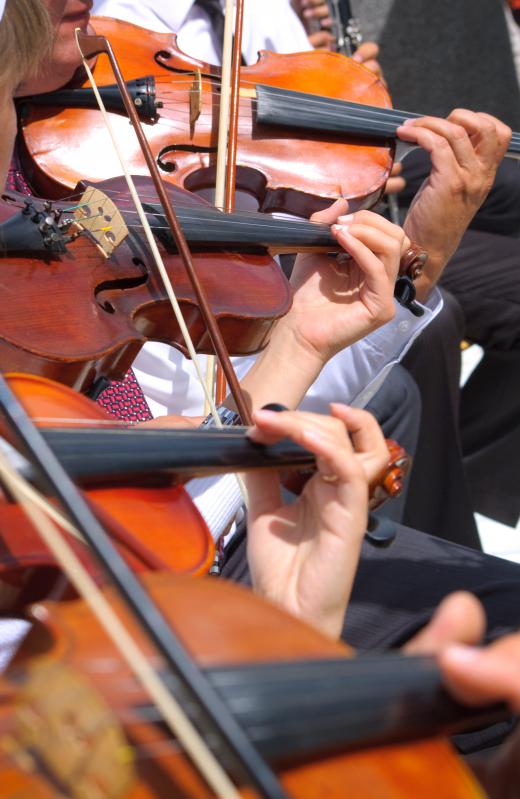 Shellac varnish, or spirit varnish, is produced from the secretions of the lac bug dissolved in alcohol. Most French varnishes are produced in this way. Shellac can be applied very thinly, which some violinists think produces the purest sound. Although softer varieties can be produced, shellac varnish is typically more brittle than oil varnish and can be subject to flaking and cracking.
Oil-based violin varnish, frequently made from linseed oil or walnut oil, is mixed with a strong solvent such as turpentine. Linseed varnishes are notorious for not curing completely and remaining slightly sticky, making them more susceptible to slight marks, dents, or impressions. Most of these minor imperfections repair themselves within a few days, however, and the amount of stickiness varies depending on the type and amount of resin used. In extremely humid or extremely dusty environments, this may be more of a problem, but the difficulties generally can be avoided with proper care.
Either a shellac or an oil violin varnish, once dissolved in a solvent, will be mixed with some form of resin. The word "resin" refers to the sap-like substance excreted from trees when the bark is damaged in some way. Rosin, which is taken from live trees, is the softest resin and comes in a variety of colors. Amber resin comes from the fossilized remains of trees and produces a durable, high-polish varnish. Copal, a straw-colored resin, comes from older, but not fossilized trees, and varies greatly in strength.
When considering whether to touch up or re-varnish your violin, you should also consider the effects on appearance and market value. Most types of violin varnish can come in a variety of colors and glosses, many of which are a matter of personal preference. You should, however, be wary of touching up an older instrument if the imperfections do not negatively affect sound quality. Many experts prefer instruments with an antiqued look, and any changes to the original instrument may lower its value.
AS FEATURED ON:
AS FEATURED ON:







By: kirvinic

There are a number of considerations when choosing a violin varnish.

By: spline_x

Linseed oil is the base of many varnishes.

By: zea_lenanet

Synthetic polyurethane is the cheapest type of violin varnish.

By: Alta Oosthuizen

A good violin varnish can enhance the tone quality of an instrument.

By: sunnyfrog

Amber resin comes from the fossilized remains of trees.