What Are the Different Types of Artistic Wedding Photography?
Artistic wedding photography is used to add a unique element to otherwise traditional wedding photos. By employing techniques such as out-of-the ordinary settings and extreme contrasts, a photographer can create artistic wedding photos that uniquely convey the couple's style and personality. Photos taken candidly and at bird's-eye view and ground-level angles can also add a layer of perspective to the wedding album.
Using unusual settings is one type of artistic wedding photography that can help convey who the couple is and what their hobbies and interests are. The wedding couple can be photographed wearing their fancy attire while standing knee-deep in the ocean, a cornfield or a vat of grapes. Creating extreme contrast in photographs makes them more visually appealing, such as having a bride and groom playing mud volleyball or circling a racetrack or riding aboard a tractor in their wedding attire. Brides who do not want to preserve their dresses after the ceremony may be willing to go even further for artistic photos, such as going rock climbing, surfing or playing paintball in their gowns.
Taking advantage of natural elements, such as sunsets, waterfalls and other outdoor features at the couple's wedding venue, is another way to achieve artistic wedding photography. For example, traditional wedding photography may have the couple stand with a waterfall in the background, while artistic wedding photography may place the couple behind the falls, capturing distorted images through the falls. Another option is to pose the couple in an embrace, kissing under the falling water to create an image that conveys the strength of the couple's bond.
Taking candid shots — rather than posed — of the bride, groom and wedding party on the day of the wedding is another type of artistic wedding photography. Photos of a bride talking with her father, a flower girl pretending to be a bride, or the mother of the bride and groom hugging before the event offer a behind-the-scenes look at the pageantry of the day. Likewise, photos of the groom and his groomsmen goofing off before the event, helping each other get ready or decorating the get-away car can also add an extra element to the couple's photos of their big day.
Angles can be varied from the typical straight-on, shoulder-height shots used for shooting traditional photos. Artistic wedding photography can embrace more dramatic angles, such as shooting straight down on the ring bearer and flower girl or the wedding guests. Using ladders, balconies and stairways to shoot bird's-eye view photos from differing angles offers a new perspective of the wedding action. Views from side and low angles also offer artistic flair and subject matter, such as shooting a photo of the guests' or wedding couple's feet from ground level.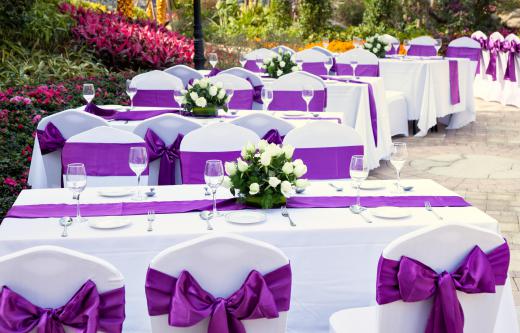 Whether in a darkroom, a photo-manipulating program or while shooting the photos, special effects can often be used in artistic wedding photography. Different coloring methods, filters and lenses can produce artistic wedding photography results, such as fish-eye lenses. Shooting or processing photos in black and white or sepia tones can be used to produce a vintage effect on modern-day photos.
AS FEATURED ON:
AS FEATURED ON:







By: Aaron Ostrovsky

Artistic photography often incorporates natural elements, like sunsets and mountains.

By: Deklofenak

Out-of-the-ordinary settings may help achieve artistic wedding photos.

By: Marco Tiberio

Candid shots of the bride and groom on their wedding day can be considered artistic wedding photography.

By: rodho

An outdoor wedding in summer may call for a photographer who specializes in more candid photos.

By: zagorodnaya

Unusual backgrounds make more artistic wedding photos.

By: fotoatelie

Wedding photography often tries to capture the mood of the bride and groom on their wedding day.