What Are the Different Types of Marching Band Music?
Classic marching band music is typically made up of military and patriotic marches, such as those composed by John Philip Sousa, who wrote some of the most famous marches still regularly played today. Many bands do not limit themselves to marches, however, and may play any genre of music while both marching in parades and in field shows. Football half-time shows, for instance, often feature rock, pop, jazz, swing and modern music instead of standard marches. Marching band music in parades can also be from any musical style, though military and patriotic marches are usually included in traditional performances.
Most of the time, marching band music will generally vary depending on the type of band that plays it. A high school marching band, for instance, will usually play at least one march of some kind during most parades. Field shows during football games and other events, however, may include music that the teenagers are more familiar with, such as instrumental versions of popular pop and rock songs. College and university bands may also play a mix of marching band music, including both traditional marches and more popular music that their audiences are likely to be familiar with.
When high school and college bands perform in parades for events such as Independence Day, Veteran's Day and Memorial Day in the US, political and military marches are generally the music of choice to keep the events traditional. Parades for other events that are not related to the military or government in some way are more suitable for a variety of music that may appeal to a more diverse audience. Half-time shows during football games typically include easily recognizable music that has a good chance of appealing to a very diverse audience of football fans.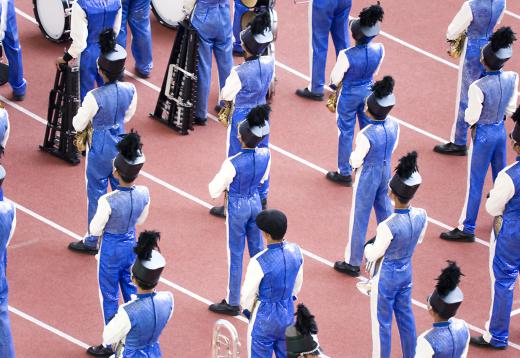 Instrumental musicians who march in bands almost always march in step with the beat of the music unless marching out of step is a planned part of the show. This is why music chosen as marching band music often is upbeat in tempo. Slow music will generally require slower marching that is not suitable for a parade, for instance. Bands that perform field shows will often use a mix of slow and fast tempo music because they may be standing still or moving slowly at times to get into different formations.
Some bands almost exclusively choose marching band music with a military flair. Parade bands, military bands and groups such as drum and bugle corps typically play marches. Fife and drum corps, which might only include woodwinds and percussion, may play marches from the Revolutionary War period. Bugle corps that also contain brass instruments are typically better suited for marches from the 19th and 20th century, which were composed for larger groups and the instruments commonly used in military bands at the time.
AS FEATURED ON:
AS FEATURED ON:







By: JJphoto

Universities often employ marching bands during the halftime of football games.

By: Shariff Che'Lah

Marching band music can vary and depend on the type of marching band.