What Are the Different Types of Visual Art?
Visual art is art that is meant to be appreciated visually. There are many types of visual art, and artistic works can be created using a wide array of materials, media, and techniques. Some artists, like painters and cartoonists, work in two dimensions, applying a medium to a flat surface to create an image. Other artists, like sculptors and architects, work in three dimensions, molding, carving, and combining materials to create their artistic works. Photographers and video artists use cameras and video recorders to capture images in artistic ways.
Painting and drawing are two forms of visual art that involve creating images on a flat, two-dimensional surface, be it canvas, drawing paper, a piece of cardboard, the side of a building, or even a sidewalk on a busy city street. A painter typically uses a brush to apply the medium of his choice to that surface, although there are many other options available to the artist. The mediums a painter can choose from include oils, watercolors, pastels, and acrylics. Along with painters, other artists who specialize in creating images on flat surfaces include comic book artists, animators, editorial cartoonists, children's book illustrators, and caricaturist. Throughout history, artists have used a vast array of instruments and supplies to create their artistic works, including pencils, crayons, pens, markers, and even soft metals like silver and tin.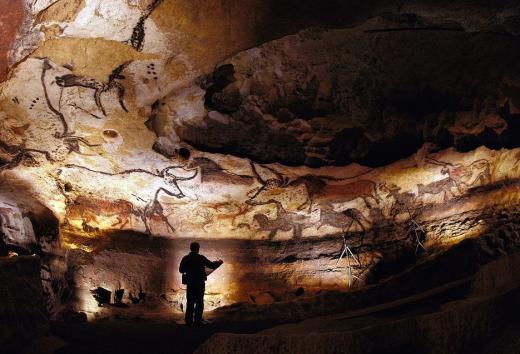 Some forms of visual art, like sculpture and architecture, are three dimensional. A sculptor uses a material like stone, glass, wood, clay, or even ice to form shapes by either chiseling or carving away certain sections of the material, or molding the material into a particular shape. A sculptor can also create a sculpture by putting different materials and objects together. One form of sculpture, called topiary, involves trimming a bush, shrub, or tree into a desired shape. Other forms of three-dimensional visual art include baskets, pieces of jewelry, and origami.
Certain forms of visual art involve using equipment, like cameras and video recorders, to capture images in an artistic way. The three main types of photography include color photography, black and white photography, and monochrome photography, where the photographic image is produced using a single hue. Compared to photography, video art is a relatively new visual art form, which was first introduced in the 1960s. In video art, the artwork created can either stand on its own, or can be incorporated into a larger artistic work, like a sculpture, or a performance art presentation.
AS FEATURED ON:
AS FEATURED ON:







By: Bayes Ahmed

Prehistoric humans known as Cro-Magnons created some of the earliest examples of visual art.

By: Keijo Knutas

Illustrations, like those created by Norman Rockwell, often serve to convey a society's moral and civic values.

By: Brad Pict

Sculpture is a visual art form that involves constructing or carving three dimensional pieces.

By: dred2010

Oil paintings are a form of visual art.

By: amphotolt

Origami is considered a visual art.

By: Denis Pepin

Cartoons and animation are forms of visual art.

By: undrey

A visual artist may use graphite drawing pencils to create artistic works.

By: Pakhnyushchyy

Illustrators are visual artists.

By: picsfive

Watercolors are a common form of visual art.