In the music business, A and R is short for artists and repertoire. Virtually every major music label has an A and R department, stocked primarily with talent scouts and experienced musicians. Their main duties include recruiting new performers, aiding in contract negotiations, finding appropriate original material and acting as liaisons between artists and management. A successful A and R person usually has one foot in the creative world and the other in the business world.
The power of the A and R department was most evident during the 1950s, when hundreds of potential pop singers were being actively recruited for the numerous music labels located in New York City, Detroit, and Los Angeles. Talent scouts worked tirelessly to discover talented doo-wop quartets, girl groups, rock-and-roll bands and male pop singers with matinee idol appeal. All of these performers depended on their A and R representatives to guide them through the process of becoming recording artists.
Some of these early talent scouts, such as Clive Davis and Herb Alpert, would later start their own music labels to promote less commercial but talented performers. It is not unusual for a veteran A and R person to work for several different labels over a lifetime, or even to form an independent talent agency. Sometimes, a label may part ways with an A and R person if he or she fails to produce a significant number of commercially successful artists.
An A and R department is also responsible for finding original songs for their roster of musicians. This means that a good working relationship must be maintained between the creative world of the songwriter and the business world of the music label. A songwriter who has provided a number of hit songs in the past is always in high demand, so the challenge for departments is to match the best song with the best performer. This is often a balancing act between artistic expression for the songwriter and bottom line sales figures for the label. The A and R department of a major music label often acts as the sounding board for both sides of the equation.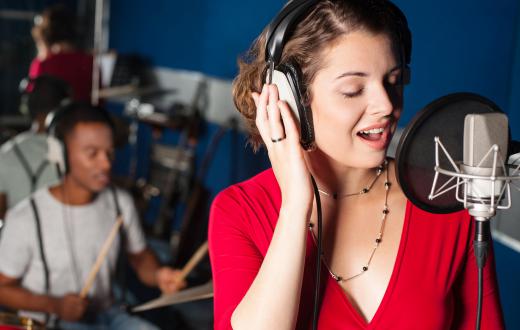 The responsibilities of the A and R representative have changed over the years, but recruiting new talent remains a priority. Simon Cowell, the acerbic British judge on several televised talent shows, is one example of a modern A and R representative. His main responsibility is to recruit new musicians and groom them for the worldwide stage. Cowell and other prominent talent scouts routinely reject hundreds of auditioners in search of the one new group or singer who can handle the pressures of stardom. Music labels invest thousands of dollars in the grooming, recording and promotion of a signed artist, so a recruiter must be extremely judicious.
AS FEATURED ON:
AS FEATURED ON:







By: godfer

A and R stands for artists and repertoire.

Television celebrity Simon Cowell is an example of an A and R representative.

By: stockyimages

A and R departments include talent scouts who find new recording artists.