A unitard is a body-length, single-piece garment, usually made of stretchy fabrics like Lycra®, which closely adheres to the body. The earliest styles were likely the wetsuit, which was worn for the very specific application of snorkeling and diving in colder temperatures. For all intents and purposes, a wetsuit is really a unitard, though it is made of rubber and is much bulkier than most versions.
The catsuit also predates the unitard and is a form-fitting, one-piece garment that gained popularity during the 1960s. These early garments were popular on television adventure and spy shows like The Avengers. Today, the catsuit is seen and worn by characters in a number of science fiction movies. Early catsuits could be made of either stretchy fabric or leather. The leather version is a very constricting outfit, and for women, often features a built-in corset. Michelle Pfeiffer has stated in the past that her decision not to play Catwoman again was largely based on having to fit into the very restrictive catsuit costuming.
Lycra®, invented in the late 1950s, was not commonly available for several decades, but by the 1970s, it was much easier to find. Rock stars, like Freddy Mercury and David Bowie, often wore unitards when performing. The garment also migrated to the dance world, where many dancers found them preferable to the leotard and tights ensemble. Both male and female gymnasts may wear one as well, and male and female ice skaters frequently use them for performance or practice.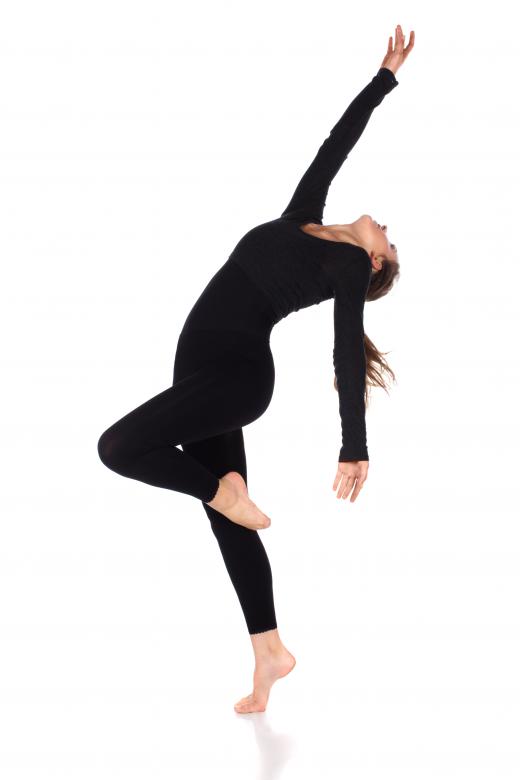 For a while in the 1980s, unitards became extremely popular as everyday clothing, as opposed to athletic clothing, and might be worn alone or with a big shirt or skirt. In health clubs all over the world, they were often the preferred dress code for aerobics instructors. Today, it is quite common to see acrobats, gymnasts and a variety of other athletes perform in them. In Las Vegas at burlesque shows, women often wear sheer ones that add support but give the illusion of nudity.
The unitard in early versions always featured long sleeves. Some sleeveless ones, with a tank top, are now popular and a little cooler to wear. Actually, the tank top version seems to be inspired by the wrestling singlet, a one-piece garment with a tank top that ends just above the knee.
AS FEATURED ON:
AS FEATURED ON:







By: Elena Ray

A unitard ensures freedom of movement.

By: nanettegrebe

Dancers may wear unitards.

By: roibu

Unitards are typically made of Lycra.

David Bowie is known to have worn unitards.