An accordion is a type of hand held musical instrument. Accordions have been made since the 1700s in Europe, and appear in the folk music of several European nations. The instrument has a very distinctive sound, which some listeners find rather unpleasant, while others appreciate the unique auditory experience of listening to an accordion. Because of the characteristic way in which an accordion is operated, the instrument is sometimes known as a squeezebox.
The roots of the accordion can be found in the cheng, a Chinese instrument which was developed approximately 5,000 years ago. Explorers to Asia brought the cheng back with them, along with an assortment of other goods unique to China. German musicians toyed with the instrument, producing recognizable accordions by the 1700s. Several variations on the instrument were developed, including the flutina and the aeoline. By the early 1800s, an "accordion" had been patented by a German inventor.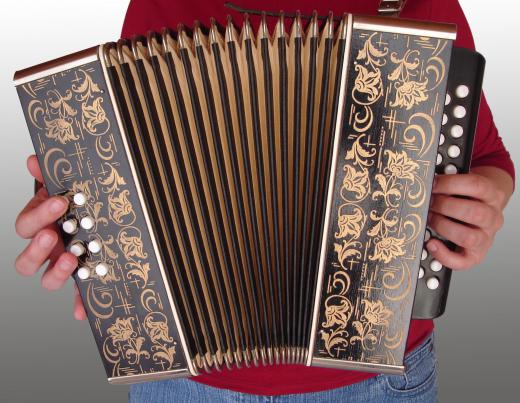 It is classified as a wind instrument, meaning that the sounds generated by an accordion are caused by the movement of air. A typical accordion has two keyboards attached by a central bellows. When the bellows are squeezed, they force air past reeds located within the body of the accordion, creating notes and chords of music. The keyboards are used to produce specific notes or chords. Accordion construction and maintenance is still accomplished largely by hand, because of the distinctive way in which the instrument is put together.
Many accordions are diatonic, meaning that they produce different sounds depending on whether air is being pulled into the bellows or pushed out. Others are chromatic, generating the same sound regardless as to the direction of the air flow. All accordions have the ability to make sharps and flats, as well as several octaves of notes. Custom versions have been produced to create a specifically desired sound, as well.
Many accordions are festively decorated, and the instruments can border on the gaudy. The sound of the accordion is closely associated with folk music from Switzerland and Germany. The instruments can also be found in some Mexican music, thanks to a German presence in Mexico which led to the introduction of accordions. Many folksy dance bands feature an accordion player, as do mariachi bands and folk music groups. When played in combination with a number of other instruments, the accordion can be quite charming, as well as unique.
AS FEATURED ON:
AS FEATURED ON:







By: Wizardgold

Chromatic button accordions feature buttons in place of piano keys and are often smaller and more portable than piano accordions.

By: Michael Fritzen

The accordion is common in folk music written for for dancing.