Math rock is a form of progressive rock music that is largely based on rhythmic structures within music and tight, mathematical precision and changes in style. Coming to prominence largely in the late 1980s and early to mid 1990s in the US, this style of music is often noted for the complexity and technical skill of those who play it. One of the signature aspects of math rock is the way in which the tone and meter of a piece of music often changes throughout a song; rather than a single steady rhythm being used throughout, these songs often change over the course of a track.
The progressive rock movements largely began in the 1970s and continued throughout the latter part of the 20th Century in a number of forms. Hallmarks of this genre include the use of rock and roll instruments, such as a lead guitar, drums, and bass, to create music that transcends the common structure of rock songs. There are a number of sub genres within progressive rock, including math rock, and each of these strives to move beyond perceived limitations in popular music in a number of ways. In this type of rock, the primary method of transcendence is through tight rhythms that alter and change in ways that are often described as "angular" or "mathematic."
Common meter or time signature for most rock and roll songs is 4/4, which means that each measure, which is simply a group of beats, consists of four beats and a quarter note gets the beat. In math rock, however, less common time signatures are often used, such as 3/2 or 11/8. These are technically complex meters for a musician to play, and provide unusual and often discordant rhythms within a song. This type of structure largely inspired the term "math rock" as great technical skill is required to play pieces of music that often seem geometric or mathematical in nature.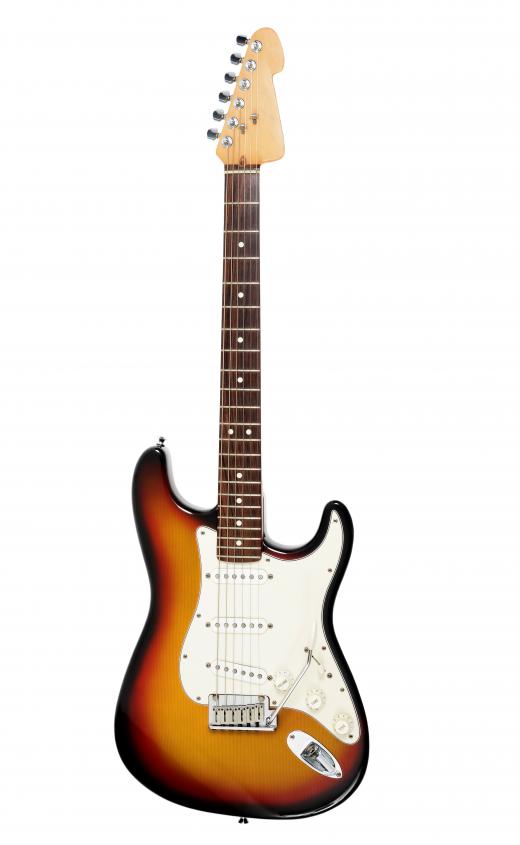 Not only does most rock music use a single, simple measure for many songs, but this time signature is used steadily throughout the song. In a math rock arrangement, however, time signatures can change abruptly, giving the music a disjointed yet internally cohesive feel. Sudden stops and starts, changes in rhythm, and accelerations or decelerations in tempo are all signature elements within math rock. Since the end of the 20th century, there has been little growth in this sub genre, though some fans have continued to enjoy prominent artists within the movement who may be influential on future musicians.
AS FEATURED ON:
AS FEATURED ON:







By: xalanx

A child doing math homework.

By: mekcar

Lead guitars are usually a part of math rock.