Rhythm and Blues or R&B music, was originally termed "race music" and basically included anything intended for African-American audiences. A combination of jazz, gospel, and blues, the term "R&B" was coined in the late 1940s in the United States for use as a less offensive marketing term. While R&B music has evolved over the years to spawn contemporary sounds, the original genre focused on "boogie" rhythms and included such famous acts as Bo Diddley and Chuck Berry. The end of World War II produced a surprising call for new sounds, and the R&B music genre took off as a result.
Traditional R&B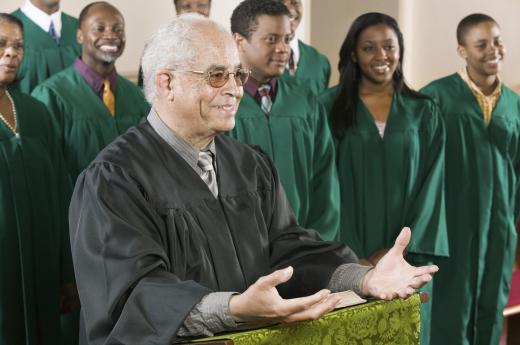 In the late 1940s and into the fifties, R&B groups consisted largely of brass instruments and woodwinds, as well as drums, piano and vocals. These elements were common in jazz bands, but R&B musicians produced a heavier sound with a steady beat. As the fifties progressed, the genre became notable for its sexually suggestive lyrics and provocative dancing associated with it. Artists like Muddy Waters descended upon Chicago's south side, the new center of R&B music, and introduced elements like the electric guitar.
The Sound of R&B
R&B lyrics sometimes focused on segregation and racial issues, like other musical genres associated with African American musicians, but arrangement and musical style became increasingly important. In general, this style of music includes steady rhythms and numerous instruments to create multiple layers of sound. The music is often meant to inspire dancing or to at least provide a sound that is catchy and interesting. Lyrics in these songs can cover a wide range of subjects, such as love, relationships, and dancing.
Development of R&B
As the genre progressed throughout the decades, R&B music started becoming known as soul music; it was also no longer exclusively made by African American artists. White musicians started composing R&B songs, though the genre was still dominated by artists like Chubby Checker, Sam Cooke, and bands like The Miracles. As the music progressed and caught on in society, it helped dispel the commonly held belief that so-called "black" music was only for certain people. The genre transcended race relations and survived by carving out its own niche in the US music scene.
Contemporary R&B
Contemporary R&B music has a distinctly different sound than its forebears. It often focuses on pop beats and culture rather than the blues, gospel and jazz sounds of previous generations, though those elements may still be present. In many ways, it developed and grew out of the "funk" sound and disco in the 1970s. As those types of music became less popular, contemporary R&B mixed some of the style of funk with popular music, though vocal performances in this genre are often heavily inspired by gospel and blues.
AS FEATURED ON:
AS FEATURED ON:







By: biker3

Gospel music has influenced R&B.

By: mekcar

The electric guitar is favored by many R&B artists.

By: Dangubic

The saxophone is commonly used in R&B music.

By: SeanPavonePhoto

R&B performances typically use amplifiers for electric guitars and other instruments.

By: bst2012

R&B is a mix of gospel, jazz and blues.