How Do I Become a Cruise Ship Musician?
Many musicians find working on a cruise ship to be an appealing career choice, and a good way to travel while getting paid. In order to become a cruise ship musician, there are a few steps that need to be taken. These include creating a résumé, getting references, making a video and auditioning for a talent agency or directly for a cruise line. In addition, each individual cruise line will require certain steps to be taken before actual employment begins.
The first step to become a cruise ship musician is to create a résumé with one's previous musical experience. It's a good idea to include the time and place of all paying musical gigs in the past. Also it's important to add some credible references from club or bar owners that can testify to the individual's musical capabilities. This will be the initial step to "get the musician's foot in the door."
Another important step when one wants to become a cruise ship musician is to make a video. It's recommended that the video contain either a live performance or a taped studio performance of two or three songs. This will serve as an effective way to showcase the musician's skills and abilities. Although this isn't always required, it's a good idea to have one available and it makes the musician seem more professional.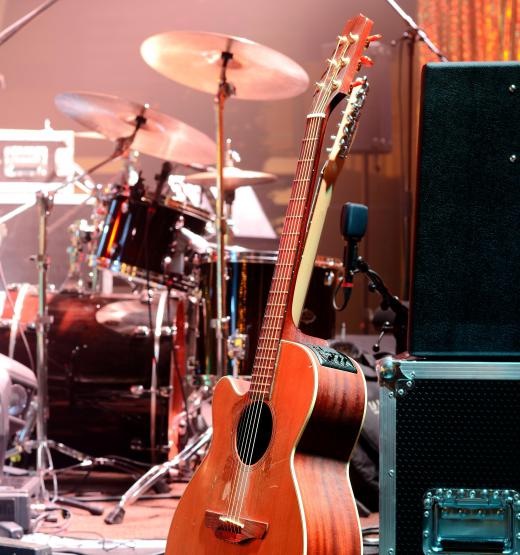 From here, there are basically two ways to apply to become a cruise ship musician. One way is to contact a talent agency that deals with providing entertainment for cruises. Depending on location, the talent agency will either have the musician audition live or review a video. Applying to a talent agency is often a good idea for individuals with no previous experience working on a cruise ship because the agency will take care of most details. The downside is that it costs some money, and typically the agency deducts a percentage from the musician's paycheck.
The other option is to simply audition directly for the cruise line. This can be done by contacting the cruise line headquarters and inquiring about a position. Most lines will want to interview the musician and have him audition in person or send in a video. From there, they will give instructions on the rest of the process. This is sometimes more difficult and takes longer than it would with an agency, but there will no additional costs.
Along with these steps, each cruise line has different requirements a musician must meet before beginning work. For example, a passport or visa will be mandatory if traveling outside of one's home country. Also, health-related requirements might include a physical and certain vaccinations.
AS FEATURED ON:
AS FEATURED ON:







By: Popova Olga

Everyone who works on a cruise ship is usually required to have a valid passport.

By: Aleksey Stemmer

It is helpful to create a resume and a video of a performance that can be submitted when applying for a cruise ship musician.

By: Andrey Armyagov

Each cruise line has different requirements that musicians must meet before beginning work.

By: Masyanya

Some cruise lines allow auditions.