What Are Wedding Musicians?
Wedding musicians are people who provide music for wedding ceremonies and receptions. This can include people who play musical instruments and those who provide vocal music. Such musicians may be professional or amateur, and may work for pay or as a favor to the bride and groom.
Professional musicians sometimes specialize in weddings. Weddings may, in fact, be the only types of events for which they perform. Depending on the size of their service area and the number of weddings that might require their services, wedding musicians might be able to make an acceptable primary or secondary income by only working weddings.
In most cases, however, wedding musicians list weddings among an extensive list of services that might also include funerals, parties, corporate dinners, and more. Wedding musicians may also perform at events as a sideline that helps them earn income while they are pursing a recording or performing career, or to augment the income from another type of career. Performing for weddings or other events can be either a full-time or a part-time job. Such musicians are usually self-employed contractors who charge by the event or by the hour.
Wedding musicians may specialize in any number of instruments or be vocal performers. Pianists, organists, and harpists are often in demand for wedding ceremonies in many parts of the world. These musicians will usually play for about a half hour prior to the start of the ceremony, to provide music for guests being seated. They traditionally play music to accompany the entrance of the bridal party and the bride as well as recessional music at the close of the ceremony. They may also play hymns or provide accompaniment for singers during the ceremony.
Many other types of instruments can also be played by wedding musicians during the marriage ceremony. In some cultures, drums, flutes, bells, and other instruments are traditional. Outdoor ceremonies might utilize a violinist or guitar player rather than a pianist because of the difficulty in transporting a piano to a destination wedding, such as a ceremony on a beach.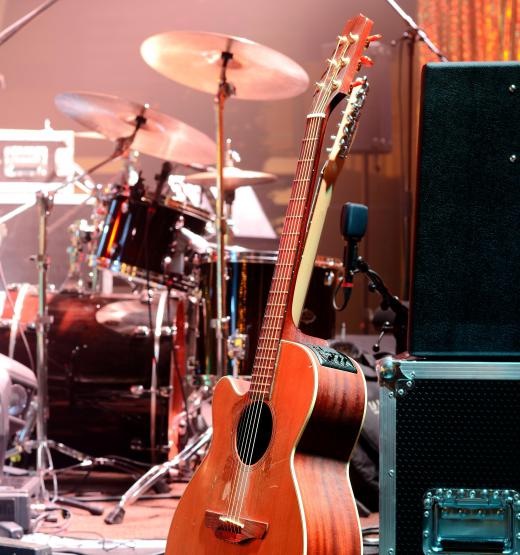 The other usual use for wedding musicians is at a party following the ceremony, often called the reception. These musicians might be soloists, but are more often small groups or bands of performers that might include several types of instruments and one or more vocal performers. While they are not technically musicians, some people consider wedding disc jockeys to be wedding musicians as well.
AS FEATURED ON:
AS FEATURED ON:







By: detailblick

It's customary for the couple that's getting married to pick the musicians or band.

By: shotsstudio

Wedding musicians often play during a reception.

By: vitmark

Outdoor weddings might be best served by a guitarist.

By: Aleksey Stemmer

Wedding musicians are often hired to play during the reception.

By: Aikon

Violinists may perform during an outdoor ceremony.