How Do I Choose the Best Accordion Strap?
When attempting to locate the best accordion strap, the size, comfort and strength of the strap should be considered. You will want an accordion strap that is not only very comfortable even after long periods of playing the instrument, but one that is strong enough to support the weight of the accordion coupled with the force required to play the music maker. You might wish to explore adjustable length straps that will allow you to fit the accordion to you in any manner of dress, from a light shirt to a heavy winter coat, depending upon your playing habits. Another option to consider when choosing the best accordion strap is a stylish and individualized strap, which will give you and your accordion a unique appearance.
The accordion is basically a hand-held organ that is squeezed together and pulled apart to generate air to make music flow from the device. Fitted with piano-like keys on one half of the device and pipe organ-like buttons on the other, a musician is able to produce a variety of keys and octaves while playing music. The accordion can be a heavy instrument to hold after even a brief period of playing, as well as a difficult instrument to hold in proper form due to the pumping in and out of the hands and arms in order to make music with the device. These factors alone necessitate the use of a quality accordion strap.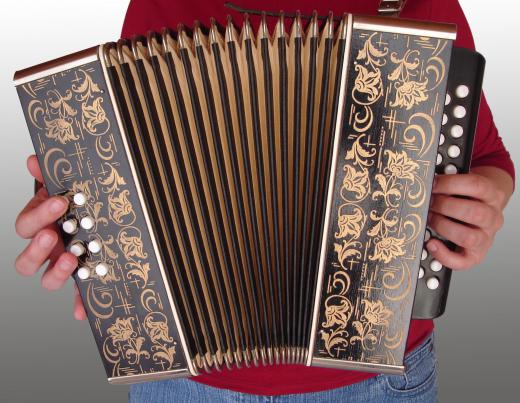 While plain leather and nylon straps are available, the best accordion strap is padded and criss-crosses the player's back to give the ultimate in support and comfort while playing. Lesser-quality straps are thin and use snaps to secure them in place, while the better accordion strap designs use wide, comfortable straps with buckles to make adjustments. To ease your grip on the instrument, the best type of accordion strap will hold the accordion close to your chest and will not allow drastic movement. This will allow you to move about as you play without the fear associated with dropping your accordion.
Occasionally, the best styles of accordion strap can be found from a local leather worker. The straps can be adorned with your name, initials or fancy tool work to give you a unique visual appearance anywhere you play. Buying from a local leather worker or artisan can sometimes save you money, making the personalized accordion strap a better value than off-the-shelf discount straps found at some musical supply stores.
AS FEATURED ON:
AS FEATURED ON:







By: Wizardgold

An accordion strap should be strong enough to hold the weight of the instrument and durable enough to withstand the playing of the instrument.