A mural is an extremely large work of art, most often a painting, applied to the surface of a wall, ceiling, or floor. It can be one of several different styles, but all are designed to bring beauty to the building, whether inside or out. Many major cities feature murals along freeway sound barriers or underpasses. People might also spot one on the side of a downtown building. Refineries and energy companies sometimes use an outdoor mural to introduce color and brightness and to distract the eye from industrial stacks and machinery.
Though most people are likely familiar with outdoor murals, they might only associate an indoor one with works like Michelangelo's famous Creation or Last Judgment, both adorning the inside of the Sistine Chapel. The Renaissance embraced artists who excelled at realism, leaving works unrivaled to this day. Today, the indoor mural is most often used to open up a wall by extending an outdoor landscape or by transforming a room into an exotic jungle, Roman bath, or scenic mountaintop. A fleur de lis-inspired mural over a doorway adds an authentic French flair and can tie in antique furnishings, creating a nice theme.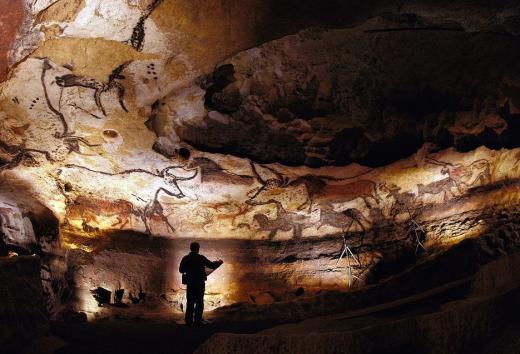 In addition to art, a mural can also be used to create a faux finish. A wall can be painted to resemble worn brick, rich paneled wood, or white Greek plaster complete with vining plants, balcony, and a view of the Mediterranean. Trim and molding can take on any look for a tasteful accent. It can be used to create marble pillars, ornate tile, or the warm feel of adobe.
Restaurants often use indoor murals to drive home a theme. Mexican restaurants frequently feature images of a festive Mexican village. For smaller businesses, an outdoor painting on a wall that faces traffic can double as an advertisement.
A person who is good with a brush might consider painting his or her own mural. It can be done to camouflage a door, create a reading space, open up a room, or soften the right angles of the walls. Those who don't feel up to the task or don't consider themselves to be creative can hire an artist to paint the area. He or she will be happy to offer suggestions as to what kind of design can accomplish the intended affect.
An indoor mural should harmonize with the theme of the house and its colors and furnishings. If the homeowner plans to change these, it's best to do so before painting the mural. A good artist should have pictures of his or her work. If the portfolio includes any local public buildings, someone considering hiring the artist may want to view his or her work in person.
AS FEATURED ON:
AS FEATURED ON:







By: Bayes Ahmed

The earliest murals were painting by a population of prehistoric Homo sapiens called Cro-Magnons on cave walls.

By: Marco Desscouleurs

Famous murals include Michelangelo's work in the Sistine Chapel.

By: mrallen

Most people find doing a paint-by-number mural is much easier than making a freehand design on the wall, unless one has very strong artistic ability.