What Is a Trumpet Concerto?
A trumpet concerto is a musical work — normally in two or three movements — for trumpet and orchestra, in which the trumpet alternates with the orchestra in taking up a theme or engages in a dialogue with the remaining instruments. The conventional pattern for such a concerto, developed in classical times, would be a sonata-form first movement with a slow second movement. The final movement of the concerto would often be in the form of a fast dance movement, such as a rondo, or would sometimes take the form of a theme with variations. The clear, powerful sound of the trumpet stands out distinctly when used as a solo instrument, and this leads to the composition of concertos in which the trumpet may sing out a melodic line or provide a counter melody to a theme played by the orchestra.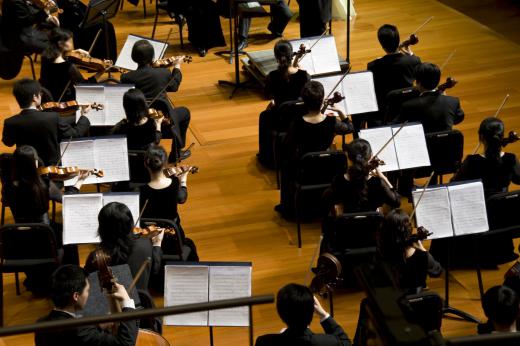 The trumpet concerto was first used in the Baroque Period by composers such as Georg Friedrich Handel, Giuseppe Torelli and Georg Philipp Telemann. The range of the trumpet in Baroque times was more limited than in later periods, but Handel's trumpet concerto has remained a part of the repertoire of trumpet players over the years. Telemann also used the trumpet to great effect against the background of the instrumental ensemble.
The most notable example of a trumpet concerto in classical times was a concerto written in 1796 by Joseph Haydn. The work was ground-breaking, because it was written for trumpet player Anton Weidinger, who had devised a row of valves that enabled the trumpet to play a series of notes on the chromatic scale in lower registers than previously possible. This greatly extended the possibilities for the trumpet as a solo instrument, and Haydn highlighted the new possibilities of the trumpet in this composition by introducing chromatic passages. Johann Nepomuk Hummel's trumpet concerto written in 1804 is another three-movement work that also served to showcase the new possibilities of the instrument. The piece includes modulations that were not possible on the old form of trumpet and the lyrical second movement celebrates the arrival of the trumpet as a versatile solo instrument.
In the 20th century, various trumpet concertos explored different possibilities of the instrument in differing styles. The Concerto No. 11 for Trumpet and Orchestra, written in 1948 by Vagn Holmboe, begins with a short and slow movement followed by three movements that feature the melodic possibilities of the trumpet. A trumpet concerto written in 1950 by Alexander Arutiunian includes melodic passages reflecting the style of Armenian and Russian folk music. The work is not divided into movements but is in five sections that proceed without a pause between them. After its introduction to the U.S., the piece became an important part of the trumpet repertoire.


By: nickolae

The trumpet concerto was first used during the Baroque period by composers such as Georg Friedrich Handel.

By: yang yu

A trumpet concerto is supported by a full orchestra.