What Are the Different Types of Concertos?
The types of concertos are broken up primarily by style, and by the musical instruments involved. Concertos run the gamut from classical compositions such as those of Mozart to modern variations, and they can include a wide variety of instruments. As a general rule, you don't need to understand the types of concertos to appreciate and enjoy this musical form, although a deeper understanding of the styles and their history can provide you with some interesting tidbits of information.
A concerto is a musical composition which is designed for a solo instrument and an orchestra, although some types of concertos include more than one instrument as the focus of the piece. Most concertos are performed in three movements, allowing the piece to develop and play with a theme, and to showcase the skills of the musicians and the beauty of the instruments involved.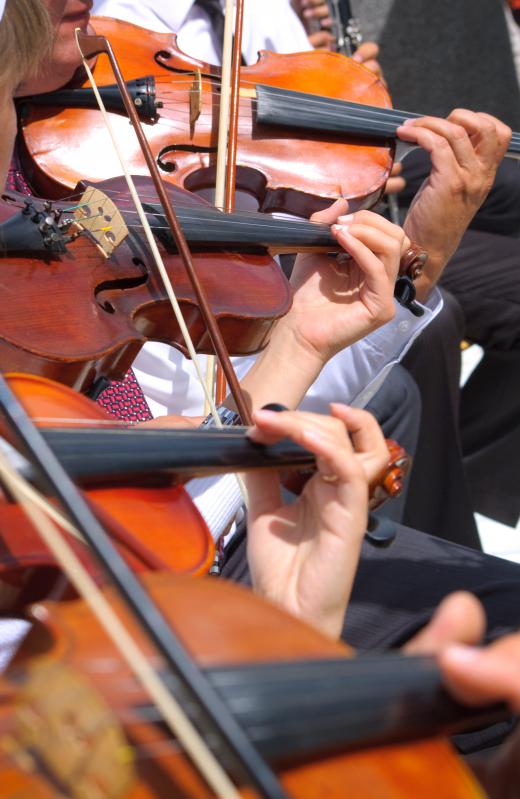 There are four main styles of concertos: baroque, classical, romantic, and modern. The form of the concerto developed during the baroque period, when composers began to develop the concerto grosso, a composition in which the music was passed back and forth between a small group of instruments, known as a concertino, and a larger orchestra, known as the ripieno. After laying the groundwork during the baroque peiod, composers branched out in the classical period, developing concertos for specific instruments alone, along with pieces which integrated plays on various themes.
Romantic concertos tend to be more florid and complex, with incredibly ornate and embellished music. The violin concerto in particular flourished during the romantic period, thanks to the flexibility of this instrument and the many beautiful ways in which it can be used. Types of concertos which are considered modern range in style, from classically-inspired pieces to more difficult avant-garde works which demand a lot of work on the part of the listener and the musicians.
In addition to looking at types of concertos by style, it is also possible to divide concertos up by the types of instrument used, since the focus of a concerto is typically a single instrument. Concertos may be written for piano, violin, viola, flute, cello, bass, and so forth, and in a double concerto, the focus may be on two instruments, instead of a solo instrument. Double concertos have a full, rich sound which cannot be accomplished with one instrument alone.
AS FEATURED ON:
AS FEATURED ON:







By: kirvinic

The violin concerto is a popular form of classical music.

By: scalaphotography

Some concertos are written for pianos.

By: Georgios Kollidas

Mozart wrote classical concertos.

By: xixinxing

Concertos may be written for flutes.

By: zea_lenanet

Violin concertos are typically written for a soloist, who is accompanied by an orchestra.