Austrian composer Johann Chrysostom Wolfgang Amadeus Mozart, recognized as one of the greatest composers of Western music, was born in Salzburg in 1756. His father, Leopold, was a Kapellmeister in Salzburg and had published a book of violin-playing instruction the year Mozart was born, and the boy's musical education began at a very young age. He recognized chords at three, played short works on the harpsichord at four, and began composing at five. Also at five, he played his first concert in Munich, with his sister who was known as Nannerl.
In 1763, Leopold took the family on a concert tour of Western Europe that lasted until 1766. Mozart played and improvised, and sometimes Nannerl did as well. On the tour, the first works by Mozart were published in Paris, and the meeting with Johann Sebastien Bach's youngest son, Johann Christian, led to Mozart composing the first of his symphonies. In the next few years, Mozart branched out to more musical genres, writing a singspiel, an opera buffa, and a mass. At age thirteen, he was appointed as an honorary Konzertmeister at the court in Salzburg.
The next tour on which Mozart went was a 1769 to 1771 trip through Italy, and included a papal audience and the production of an opera in Milan. Another trip to Italy followed later in 1771, and a third from 1772 to 1773. During this time Mozart wrote more symphonies and another opera, but also branched out into divertimentos, a serenata, an oratorio, and string quartets. By 1774 he had a salaried position in Salzburg and was also receiving commissions from near and far. But soon he requested a leave of absence and was off traveling, at his father's instigation, looking for a position better suited to his wide-ranging and deep talent.
In 1781, he was summoned by the archbishop for whom he worked to Vienna for the accession of Joseph II. His treatment there led him to seek a discharge of his duties, and his employment difficulties were to continue for some time. Joseph II at first demanded only German operas be performed at court, but when he allowed Italian opera, Mozart wrote Le nozze di Figaro, or The Marriage of Figaro, which premiered in 1786, and Don Giovanni, which premiered in Prague in 1787. It was after his return from Prague that Mozart received the court post of Kammermusicus, following the death of Gluck. In 1791, he was made assistant—an unpaid position—to the Kapellmeister at St. Stephen's Cathedral, and had he outlived the current Kapellmeister, Leopold Hofmann, this might have been his dream position.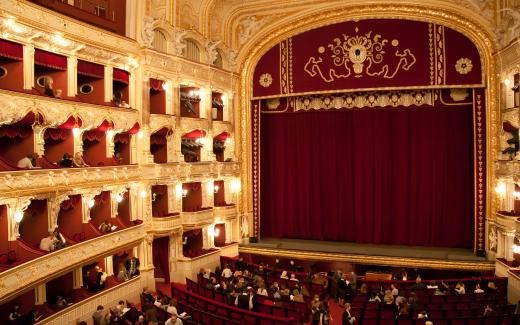 Mozart continued to write symphonies, operas, and a range of other works for a wide variety of ensembles, including the Jupiter symphony, Cosi fan tutte and Die Zauberflöte or The Magic Flute, and his well-known clarinet concerto. He became ill during a trip to Prague in 1791, and died later in that year while working on a commissioned requiem, and was left incomplete, but finished by Joseph Eybler and Franz Xaver Süssmayr. The depiction of Mozart's life, death, and relationship with composer Antonio Salieri in Amadeus by Peter Shaffer is based on several completely unsubstantiated characterizations and incidents.
AS FEATURED ON:
AS FEATURED ON:







By: Georgios Kollidas

Mozart is typically considered one of the world's greatest composers.

By: borisb17

Mozart's hometown was Salzburg, the Austrian city in which he was born in 1756.

By: ivanukh

Mozart composed operas in various styles of the time, including opera buffa and the "Singspiel" genre.

By: zea_lenanet

Mozart wrote violin sonatas that are still popularly performed today.