Grand opera dominated the theater in 19th century Paris, and it is a term frequently used to reference productions of the Paris Opera House. These serious, often tragic history plays were lavishly produced, complete with a ballet, live orchestra and a large cast of world-renowned singers. Stage designs, costumes and sets were always quite spectacular, making these productions comparable to today's Hollywood blockbuster movies. Although primarily associated with French composers, this musical genre also includes seminal works by Italian and German artists who were drawn to the creative culture in Paris at the time.
Historical events were frequently the theme grand operas were based upon; Auber's La Muette de Portici(1828) was one of the first popular revolutionary epics and even depicted an eruption of Mt. Vesuvius live onstage. Others were written to portray contemporary events such as Napoleon's conquering battles in the revolution and his reign as Emperor. Meyerbeer's opera Robert le diable was the first new work to premiere at the Paris Opera House immediately following the French revolution, once the state-run opera had been privatized by the new government. This political, liberal melodrama was soon followed in 1836 by Les Huguenots, the most successful of all 19th century grand operas. In the 1840s and 1850s the Paris Opera presented many grand operas that are today regarded as classics; Donizetti's Dom Sébastien (1843), Giuseppe Verdi's Jérusalem and Les vêpres siciliennes (1855), and Charles Gounod's Faust (1859) all define the genre in the golden age of grand opera.
An important part of the grand opera tradition was the inclusion of a ballet, usually at the beginning of Act II. While the ballet interlude sometimes had no connection to the storyline of the play itself, the Paris Opera's aristocratic patrons enjoyed having the opportunity to dine and socialize between acts. Composers such as Richard Wagner who strayed from this formula might be scorned by an audience more interested in supper conversation than in the drama unfolding onstage. When Wagner attempted to present his Tannhäuser as a Grand Opera in 1861, the Paris Opera House withdrew it after only three performances. Too many wealthy patrons had complained that the ballet appearing in Act I had interrupted their pleasant meal.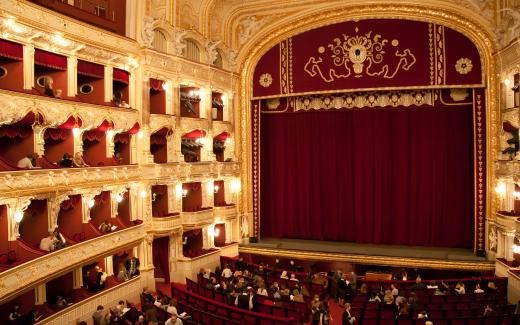 Faust was revised and revived by the Paris Grand Opera in the 1860s, with staging and sets even bigger than before. Other wildly popular productions of the day were La reine de Saba by Charles Gounod, Giuseppe Verdi's Don Carlos (1867), and Hamlet by Ambroise Thomas (1968). By the 1870s, however, grand opera began to decline as new musical fashions and composers such as Wagner were on the rise. The mammoth stage spectacles of classic grand opera were very expensive to produce and no longer drew the types of large audiences that would justify the cost of production.
AS FEATURED ON:
AS FEATURED ON:







By: Pavel Losevsky

World-renown singers, full orchestras and entire ballet companies are some of the hallmarks of Grand Opera.

By: ivanukh

Major historical events were sometimes the inspiration for Grand Opera productions.

By: polesnoy

The Grand Opera is located in France's capital, Paris.