What Is an Electric Banjo?
An electric banjo is a variation of the traditional banjo. This type differs from other members of the banjo family in that it requires electronic accompaniment to work at full effect. They function by converting vibrations on the banjo strings into electric signals. These signals can then be modified with equipment such as amplifiers or pickups.
In general, the basic composition and purpose of an electric banjo does not diverge from the regular type. The instrument still consists of a mostly rounded base, or pot — which consists of a rim and head — with a long stem. Around four to six strings run down the stem onto the base, and the strings are played with fingers. Tuning pegs and tone rings are also commonplace. The strings create vibrations when they are plucked, and the sound of these vibrations is impacted by the specific design of the banjo's body.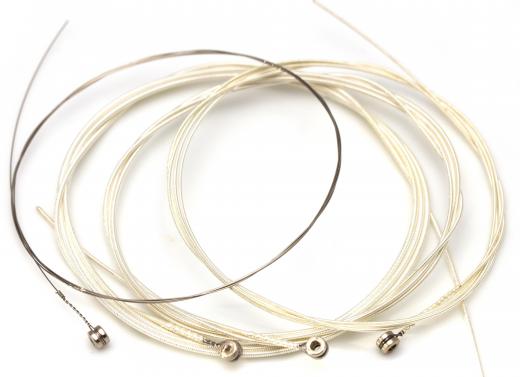 For an electric banjo, the vibrations are morphed into electric signals via electromagnetic induction. During this process, a conductor such as metal moves an electric charge across a magnetic field, producing energy, or voltage. This created signal is somewhat faint, so it must be made louder by an attached amplifier device.
Devices on the electric banjo may also allow the player to create small changes in the electric signal. These options can create effects like reverberation — or an echo effect — and distortion, which can shorten or lengthen sound signals. In addition, many electric banjos feature installed sound settings. The devices that control these features are known as effects units, and they can be found in amplifiers, in floor-based devices called stomp boxes, or in the instruments themselves. For example, an instrument might be programmed so that produced notes take on the musical qualities of a certain genre such as jazz or country, or the sounds of different instruments like guitars or drums may be mixed into the banjo sounds.
Like traditional banjos, the appearance of an electric banjo can be diverse. Some versions are made from wood, while others are made of plastic or other components. Color options are also abundant, and sizes can vary as well.
Many musicians embraced electric banjos and similar electric instruments due to a desire to create unique and louder sounds. In fact, the earliest models of electric instruments arose from the experimental efforts of musicians and inventors in the early 20th century. Modern varieties are a fixture in contemporary concerts and other large-scale performances.
AS FEATURED ON:
AS FEATURED ON:







By: schankz

An electric banjo uses a pickup to amplify string vibrations.

By: matt&stustock

When playing live shows, banjos are typically amplified using a microphone, but electric pickups can also be installed.