What is Freestyle Dancing?
Freestyle dancing is a style of physical movement, usually done to music, that isn't choreographed or planned ahead of time. It occurs in many genres, including those where people dance with partners. By definition, this kind of dance is never the same from performance to performance, although it can be done formally and informally, sometimes using some sparse choreography as a very loose outline for the improvisation. People usually like it not only because it is fun and good exercise, but also because it is a form of confidence-boosting self-expression. This style has been around for thousands of years and is still changing, but people usually think of genres such as hip hop when they hear the term — these categories didn't really start to develop until the late 1970s.
Genres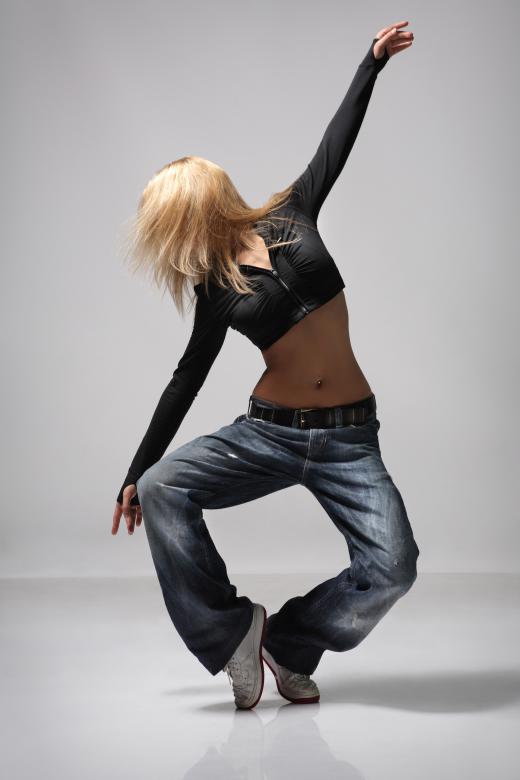 Although people usually think of street or club dancing when they hear the term "freestyle dance," individuals use various improvisational techniques in many different genres. They can make up moves in styles such as jazz, belly dance, hip hop, blues, break dance, jumpstyle, folk and electronic dance, just to name a few. Typically, someone sticks to movements from one genre, rather than switching back and forth. He generally would not, for instance, do a little bit of waltz and then move directly into a tango.
Partner genres such as ballroom dance also can fall into this group. The only requirements are that both people need to know at least some basic moves of the style they're using, and that each individual has to be able to lead or follow nonverbal directions from his or her partner about what steps to do next. It often works best when the connection between the dancers is strong, because a good relationship can make it easier to figure out and respond to body language cues.
Uniqueness
This kind of dance does not rely on choreography or scripting. Additionally, different people can physically interpret music in very different ways based on their mood, experiences, preferences and body characteristics. As a result, freestyling always produces a completely unique result, with no two performances ever being exactly the same, even when they are done by the same person with the same music.
Learning
With every freestyle dance being different from another, "learning" the style is more about exploring putting moves a person knows together on the fly, or figuring out how to come up with a movement that looks and feels right at a particular point in the music. Techniques such as body mapping or sensory training sometimes are useful for getting people more comfortable and making them aware of their physical abilities. Many videos try to teach freestyling in the form of modern hip hop moves. A person can get better at it over time with these methods, but some people appear to have more of an innate ability to improvise physically compared to others, just as many individuals seem to have a "gift" for music.
Preservation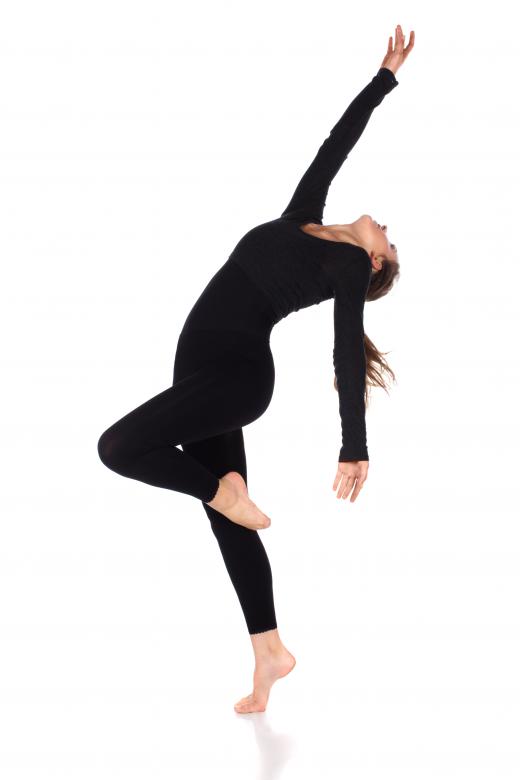 Even though all freestyle dances by definition can't be done again, people still try to preserve them because of their artistic value. The most common way to do this is through videotaping. People use photography, too, especially to accompany articles about events or dancers, but this isn't as common, simply because it can't show the entire sequence the way filming can. Sometimes, people use the pictures and video to try and analyze the movements, often as a way to recreate the style for movies and television or to loosely determine skill level.
Formal and Informal Forms
In general, different types of dance become freestyle in more informal settings, such as at a high school dance when students might take turns showing moves they know without figuring out a sequence ahead of time. Freestyling can be formalized, though, such as with competitions. At these events, the focus usually is on both the creative interpretation and the control or skill within the movements, and performers go over the top with makeup and costumes because of their limited time to make an impression on the judges.
Combination With Choreography
In some cases, people choreograph a few moves as a framework, with improvisation filling in the blanks. They might do this as a stepping stone to more complete freestyling, for example. It is also common when freestyling is part of a film, concert or other formalized performance, because others involved in the scene can take their cues from what the dancers do.
Self Expression
One of the major reasons many people enjoy freestyle dancing is that it allows them to do whatever they feel like in the moment. They can enjoy being spontaneous without worrying so much about whether what they're doing is "right" or "wrong," because nothing is scripted. In this sense, it is a physical way of being self-expressive and setting aside old movement habits. For some people, it even becomes a contemporary means to meditate and deal with the stresses of everyday life.
Other Benefits
Some individuals use this and other styles of dance as a convenient, cheap way to exercise. It has the potential to increase cardiovascular health in particular, but other aspects of health such as flexibility and strength can improve, as well. The self-confidence that comes from the health improvements and ability to dance well can carry over into virtually any aspect of daily life. Many people find that their ability to read others or socialize improves, as well, because dancing in front of or with others requires the ability to let go emotionally and to interact to some degree.
History
With the term "freestyle" technically fitting lots of genres, it isn't truly possible to trace a single line of development for this kind of dancing. People arguably have done it since the beginning of mankind, especially during common celebrations such as festivals when everyone needed a simple way to participate. It is closely linked to the rise of freestyle music, however, which grew in popularity starting in the late 1970s or disco era — simply moving to the music and "grooving," with or without a partner, was the main theme. It is not clear exactly where the terminology originated, although some theories, such as the mixing habits of DJs of that time, explore some possibilities.
Continuing Evolution
Freestyle dancing is shifting constantly, using moves that are current for the given time. The improvisational dances of one period, therefore, do not always resemble those from another. Exactly how the style changes over time is complex, involving many interconnected social elements, such as people moving to new locations or sharing videos over the Internet.
AS FEATURED ON:
AS FEATURED ON:







By: Alexander Yakovlev

Freestyle dancing is used as a form of self expression.

By: dhnjp

Freestyle dancing has most likely existed since the dawn of mankind.

By: Nejron Photo

Modern freestyle dancing can be traced back to the freestyle music of the 1970s and later.

By: Yuri Arcurs

Freestyle dancing can be seen in formal settings, such as competitions, as well as more casual environments, such as a concert or high school dance.

By: nanettegrebe

Freestyle dancing can relieve stress.

By: pressmaster

People at nightclubs often engage in freestyle dancing.