Zydeco music is a type of folk music whose birth was in the United States in the late 1800's. It originated as a vehicle for socialization of the French-speaking Creoles and free people of color in southern Louisiana. To understand what zydeco music is, it is important to remember that zydeco's mixture of influence comes from the melting pot of cultures in southern Louisiana in the late 1800's and early 1900's.
At this time in history Louisiana had a large population of Acadians that were expelled from Nova Scotia, Canada a century earlier. Acadians brought Cajun music with them which was French folk music, also called la-lamusic that had been influenced by other European countries. Southern Louisiana also included immigrants from the West Indies and slaves from West Africa that were freed prior to the Louisiana Purchase. The exact amount of influence from other cultures on zydeco music remains cloudy. However, the easiest way to understand zydeco is by coupling Creole influence on Cajun music.
During this era the primary form of entertainment for rural Creoles were dance hall dances or dances houses. The Creoles were playing la-la music at these dances. Once the French-influenced la-la music was given a blues and R&B twist by the Creoles, it then took on the name of zydeco music. The music was best personified by the King of Zydeco, Clifton Chenier.
Chenier was born in the rural Creole area of Opelousas, Louisiana in 1925. In 1958 he moved to Houston, Texas where his music took on influences from local blues music. The King of Zydeco recorded on the same label as popular artists, Sam Cooke and Little Richard, which helped bring zydeco music into the mainstream. Chenier is also responsible for popularizing the term "zydeco" by linking the word to some of his songs.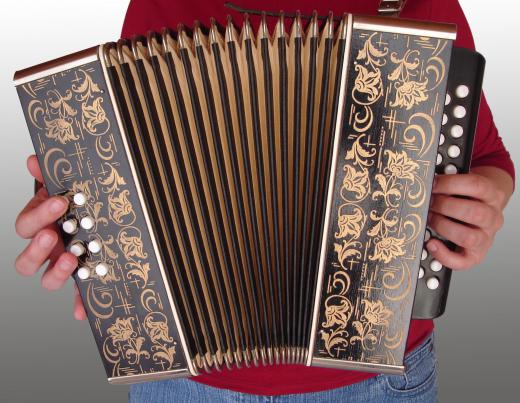 The name zydecocomes from the French phrase that means, "The snap beans are not salty." Les haricots (the snap beans) is pronounced "lay-zydeco." The phrase is a metaphor for hard times. Creoles traditionally seasoned their food, including their snap beans, with salted meant. When times were bad, salted meat became too expensive, which explained why "the beans aren't salty."
Although zydeco music can contain a wide spectrum of musical instruments, the core instruments used are an accordion and a frottoir, which is a special kind of washboard also called a rubboard which was invented by Clifton Cheier. Throughout the 20th century, other instruments such as electric guitars, fiddles and horns have been added to the standard instruments plus a bass and drums.
AS FEATURED ON:
AS FEATURED ON:







By: mekcar

Electric guitars have been incorporated into zydeco music.

By: qingwa

Zydeco music originated in southern Louisiana during the late 1800s.

By: Wizardgold

The accordion is a key instrument in Zydeco music.