What Instruments Are Included in the Woodwind Family?
The oboe, bassoon, and clarinet are common instruments of the woodwind family included in orchestras. Many school bands offer students the opportunity to play woodwind instruments, including the saxophone and flute. The piccolo and french horn also belong to the woodwind family. Most all woodwind instruments are cylindrical and made with a hole or reed for allowing forced air to create musical sounds.
Instruments in the woodwind family may be made of variety of materials. Some instruments are made of wood, while others are made of ivory or metal. Children's toys, such as saxophones and flutes, are often made of plastic.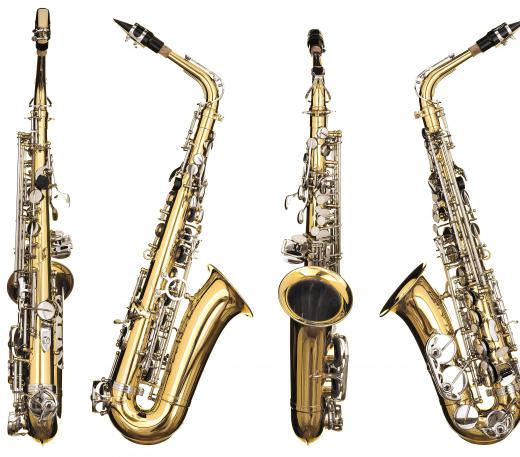 Bagpipes are a popular woodwind musical instrument commonly played in Scotland. The name come from the large sack-like bag the instrument features. Blowing through the pipes will fill the bag with air, producing the distinctive musical sound the instrument is known for.
An alto saxophone belongs to the woodwind family, and is most suitable for beginners, due to its small size. The alto saxophone does not require as much forced air to play, also making it a good choice for young children. The saxophone uses a single reed that causes air to vibrate and enable the instrument to create various sounds. This woodwind instrument is typically constructed of brass.
A recorder is a woodwind instrument that resembles a flute, and it is most suitable for children or beginners. Most recorders are constructed of solid wood, although children's varieties may be made of durable plastic. The sounds produced by the recorder resemble that of a high-pitched whistle.
The ocarina has been around since ancient times and is believed to have originated in China. The ocarina belongs to the woodwind family and has a teardrop-shaped appearance. Many ocarinas are made with ceramic materials, although some variations exist. One type of ocarina is often referred to as a mini or pendant style, and this is lightweight and small, ideal for traveling.
Maintenance and care is required for most woodwind instruments. Due to the fact that these instruments are played using mouthpieces, sanitation is essential. Sanitizing the lip plate or mouthpiece of a woodwind instrument will prevent the growth of bacteria. A professional should perform preventive maintenance on the instrument approximately every 12 months.
Many books relating to the history of woodwind instruments have been published. Pictorial books are generally created for the child or beginner. Publications relating to woodwind instrument design are often written in an encyclopedic format.
AS FEATURED ON:
AS FEATURED ON:







By: tezzstock

Saxophones are a popular woodwind.

By: Elnur

Bagpipes are a type of woodwind most frequently seen in Scotland.

By: evievee09

Flutes are smaller and more lightweight than the other woodwind instruments.