What Is a Modern Orchestra?
A modern orchestra is an instrumental ensemble that is usually larger and more diverse than most of its predecessors. It typically consists of the four main instrument sections plus additional specialty musicians according to the needs of the repertoire. The instruments in the woodwind and string sections are largely the same as those in orchestras of the Romantic era during the 19th and early 20th centuries. A few instrument changes occur in the brass section, and the most noticeable differences of the modern orchestra are generally in the percussion section.
The typical string section of a modern orchestra consists of violins, violas, cellos, and string basses in similar numbers to Romantic era orchestras. Some contemporary orchestras have a slightly fewer second chair violins, but the rest of the string sub-sections are largely unchanged. Unlike many 19th-century string sections, most modern orchestras employ only one harp player rather than two.
Woodwind sections in a modern orchestra usually consist of clarinets in the A or B-flat major keys, a change from the E-flat clarinets of the late Romantic orchestras. Two musicians each typically play flutes, clarinets, oboes, and bassoons in a modern orchestra, as opposed to three each in orchestras of earlier centuries. One contrabassoon, one English horn, and one piccolo usually complete the rest of the woodwind section.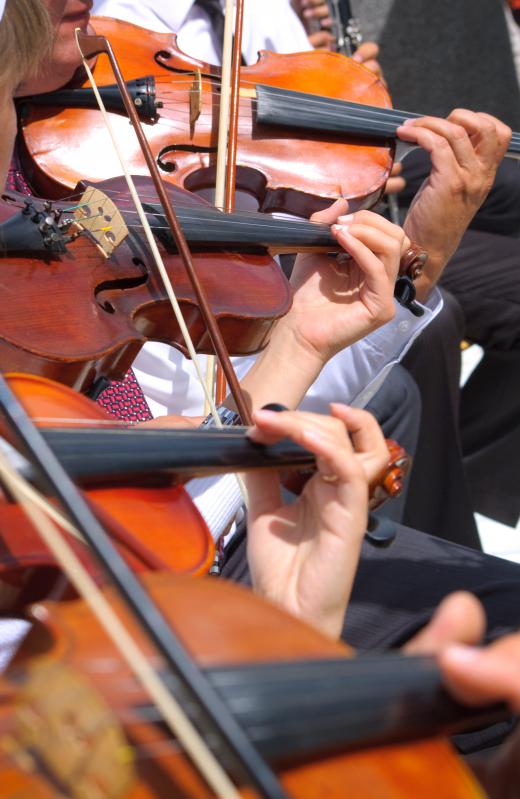 The brass instruments of this large music ensemble sometimes have less variety than in past orchestras. Standard trumpet keys are normally C keys, a slight departure from those of the past that appeared in C, F, of B-flat. A modern orchestra can also have a slightly fewer horns and trombones.
Percussion musicians often have a wider range of instruments in a modern orchestra. This section can consist of up to 14 or 15 diverse drum types, such as the timpani, snare drum, and bass drum. Other instruments, such as the marimba, glockenspiel, and xylophone are also frequently included to give each music performance a unique and rich sound. Depending on the requirements of the pieces performed, percussion musicians may add sound flourishes from tambourines, chimes, and triangles as well.
Due to its size and complexity, modern orchestras are usually classified as symphony rather than chamber orchestras. The overall structure of this ensemble is considered heavily influenced by the demands of composers. As pieces of music grow in sound complexity, the modern orchestra continues to develop in both instrument variety and musician talent level to meet these artistic needs.
AS FEATURED ON:
AS FEATURED ON:







By: Valeriy Lebedev

A string bass, part of the string section of a modern orchestra.

By: kirvinic

Violins are featured in modern orchestras.

By: Michael Flippo

The marimba might be part of the percussion section of a modern orchestra.

By: xixinxing

The flute is a woodwind instrument that is played in a modern orchestra.

By: bepsphoto

Woodwind sections in a modern orchestra typically include clarinets.

By: amfroey01

A snare drum is one of the most common percussion instruments found in a modern orchestra.

By: zea_lenanet

Violin concertos are typically written for a soloist, who is accompanied by an orchestra.